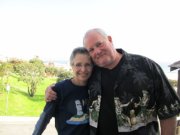 In Memoriam
Today is publication of the last BigRockHeads comic strip.
The final script was was chosen and drawn by Christine Piattelli as her farewell. Since December 2011 when she was diagnosed with terminal cancer, she continued to draw the weekly strips right up until her illness left her unable to do so. Chris chose to press on creating the work, despite the struggle, because she wanted to complete as many of the written scripts as possible for all of us. That's who she was. She was not a quitter. She was my love, and my hero.
Christine passed to eternity on September 3, 2012.
She leaves behind a lifetime of helping children discover great things to read as a career librarian. She leaves behind two remarkable children, Vincent and Kathryn. She leaves behind the writer of these comic strips who adored her. She leaves behind a family of friends who knew her as smart, generous, loyal, funny, and kind. She leaves behind 102 artfully conceived and executed BigRockHeads comic strips.
Chris gave us all so much.
Started February 7, 2011, our BigRockHeads.com now ceases publication with this final strip. The entire series is dedicated to the memory of the wonderful Christine Piattelli. Our web site will be maintained and available, as is, in her honor.
The Moai weep.
George K. Wilson
September 17, 2012